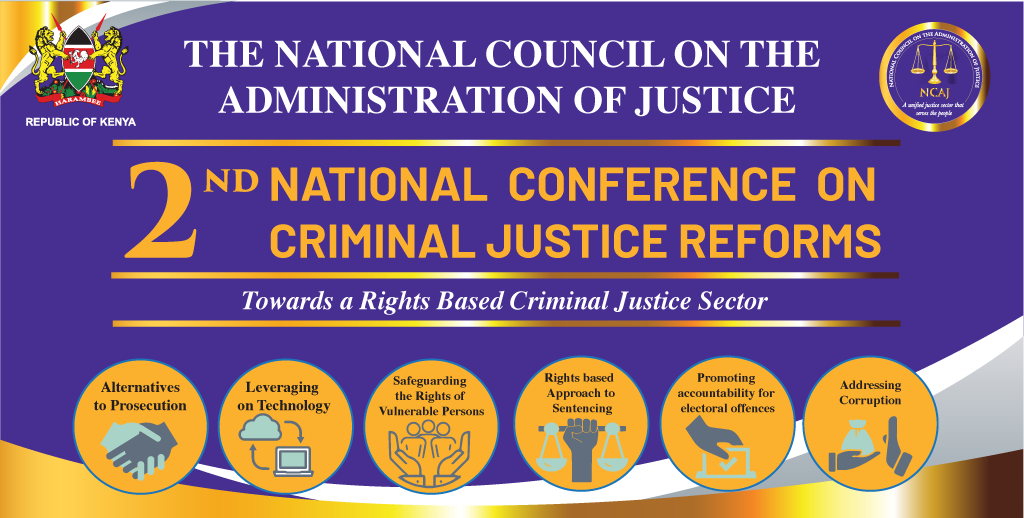 This is the 2nd National Conference on Criminal Justice Reforms (NCCJR) – a follow up to the 2019 Conference.
The conference goal is to improve the collective response of Kenya's criminal justice system by: auditing the progress made from the 1st National Criminal Justice Reforms Conference, 2019; discussing emerging issues in the criminal justice sector which require policy, legal and institutional reforms; deliberating on approaches and programs geared towards enhancing the observance of human rights by actors within the criminal justice sector; and identifying strategies for reforming the criminal justice sector, including follow-up mechanisms.
Under the leadership of Hon. Justice Martha K. Koome, EGH, Chief Justice, President of the Supreme Court of Kenya and Chairperson of the NCAJ; and spearheaded by the NCAJ National Committee on Criminal Reforms chaired by Hon. Lady Justice Grace Ngenye, the Conference will bring together local, regional and international specialists and experts from various fields within criminal justice sector, academia, related government ministries and development partners under the NCAJ banner between Monday 9th – Friday 13th May 2022.
The conference seeks to interrogate six thematic areas:
Alternatives to prosecution;
Leveraging on technology;
Promoting accountability for electoral reforms;
Safeguarding the rights of vulnerable groups;
Addressing Corruption; and
Rights based approaches to sentencing.
It also seeks to identify best practices towards adoption and mainstreaming of rights-based processes and procedures in the reform of the criminal justice system.
Download the programme
This year stakeholders will be able to follow, participate and contribute to the deliberations and resolutions of the conference onsite and virtually via this link: https://t.co/i3iiHkBdcK
The conference is supported by partners of the NCAJ: European Union; United Nations Office on Drugs and Crime (UNODC); International Development Law Organization (IDLO); Giz – Good Governance; International Justice Mission (IJM); Reprieve; Federation of Women Lawyers (FIDA-Kenya); Equality Now; and International Commission for Jurists, Kenyan Section (ICJ-Kenya). At the conclusion of the conference, a communique detailing resolutions agreed upon shall be issued.
The main participating institutions alongside NCAJ are:
Judiciary
National Police Service
Office of the Director of Public Prosecutions (ODPP)
Ethics and Anti-Corruption Commission (EACC)
Independent Electoral and Boundaries Commission (IEBC)
National Cohesion and Integration Commission (NCIC)
Office of the Attorney General – Department of Justice (OAG-DOJ)
State Department for Correctional Services through Kenya Prisons Service (KPS) and the Probation and After Care Service (PACS)
Law Society of Kenya (LSK)
Academia
Heads of Mission and development partners
The key expected outcomes are:
Consensus on policy direction on emerging issues as well as adoption and mainstreaming of human rights based approaches, paving the way for a sector-wide national strategy and action plan
Agency and stakeholder commitment towards enhanced accountability and coordination among criminal justice institutions towards the improvement and reform of the system.